You and your lonely, sad little search
"Not wanting to alarm him, I did not mention the list of possibilities delivered to me via the flowing and all-leveling directionless coursing of my online research. But the huge amounts of repetitive medical data, the folk guesses stacked next to scholarly papers, the self-help encyclopedia by the pay-per-access medical advising sites, the automatic diagnostic tools that led to the badly designed sales sites of holistic treatments—all of it—were not directionless, actually. They all led back to you and your lonely, sad little search. Each decision you made, each click or go-back button, each time you put one more thing in the search box or bookmarked a page, this was your desperate, pathetic self applying some insular logic and order to the information, however inadequate it might be. It exhausted you because you got lost in the flow of endless data, and it exhausted you because you never stopped trying to find your way in it, to apply some little spit of personal agency to it. It was a fucking war, that's what it was."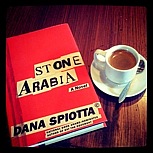 From Stone Arabia, a novel by Dana Spiotta, which I highly recommend. I also loved her previous novel: Eat the document.
It's interesting to see how contemporary writers manage to incorporate in their novels the pervasive presence of the Web in our lives. Not an easy feat, according to this article from The Guardian: How novels came to terms with the internet.
We spend hours on the web, but you wouldn't know that from reading contemporary fiction. Novelists have gone to great lengths – setting stories in the past or in remote places – to avoid dealing with the internet. Is this finally changing, asks Laura Miller?
Comments and trackbacks are both currently closed