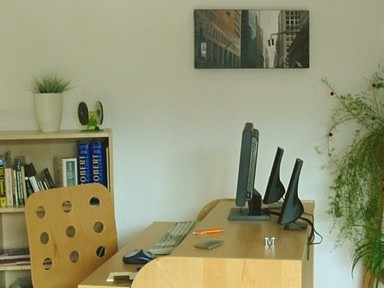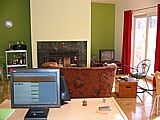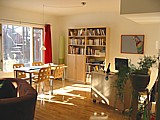 This is ni vu ni connu

"My mind is not as neat as my desk but I am a bit compulsive about keeping a clean work environment. When my desk is messy I can't seem to think straight and I try to procrastinate by cleaning instead of writing. The floor plan of my new apartment is all open space, which means that I can see my desk from the kitchen, living room and dining space. That gave me all the excuses I needed to purchase a flat monitor and slim speakers. Who wants to look at a big beige monitor when you're having a candlelit dinner?

On the wall next to me is a painting I purchased from Rachel, a blogger whose site I enjoy reading and a talented artist I "only" met on the Web. From my blogging spot, I can look to my right at the large windows overlooking the quiet alley behind my apartment or at the fireplace in front of me."

Martine blogs from Montréal, en français et en anglais, selon ses humeurs et ce qu'elle a à dire.